When I bought this Royal Custom II in November, 2012, the paint was very rough. Here is a picture from November, 2012. Notice how dark and chipped the old paint was. I was able to find an identical color, with a built-in primer. This new paint was much better quality than the original paint, which was not primed. The best part is that it is a perfect match!
As it looked when I bought it.


As it looks now.
I painted everything except the carriage and the plastic parts.
The color is called Cherry Red.
The lower parts were painted. The carriage was not--it is a perfect match--notice the area behind "Royal."
The basic design of this typewriter became the Royal Precision Portables--the Royal Sabre and Royal Custom III. The Royal Sabre was introduced in 1969, and continued in production, unchanged, until 1981. The Custom III continued until 1977, when it was replaced by the Royal Custom IV.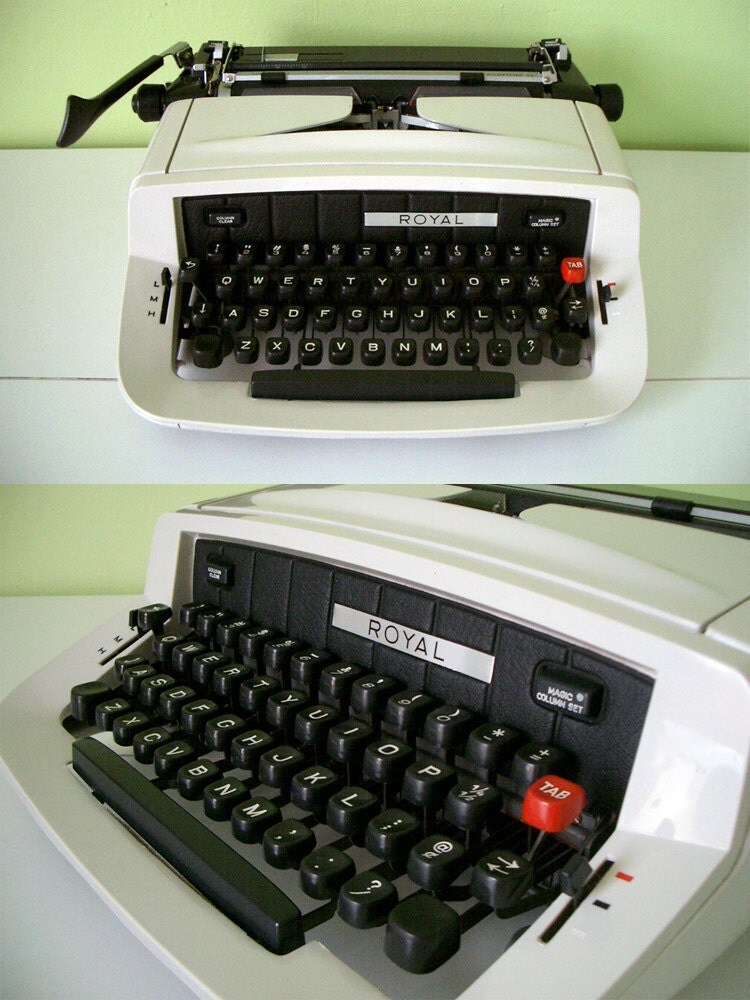 Royal Custom IV. Notice the dark carriage, and dark keytops. Also, notice the shape of the keytops, and the printing on them. This typewriter was made by Messa of Portugal.
This typewriter is essentially a more streamlined Royal Futura, which dates back to 1958. Mechanically, the basic design dates back to 1927, when the first Royal Portable entered the market. The design was improved over the years, with the following features:
Royal begins making typewriters--1906
First Royal Portable introduced--1927
Ribbon enclosed--1930
Hinged "Duo-Case" carrying case--1930
Tabulator--1930 (optional on some models) [Portable 2]
Touch Control--1934 [Model O]
Segment Shift--1939 [Quiet De Luxe]
Synthetic plastic carriage knobs--1939 [Quiet De Luxe]
Magic Margin on both sides--1948 [Quiet De Luxe]
Touch Control hidden under the ribbon cover--1948 [Quiet De Luxe]
Tweed-covered Fiberglass Carrying Case--circa 1949 [Quiet De Luxe]
Plastic Keytops--1951. [Quiet De Luxe]
Push-button Magic Margin--1951 [Quiet De Luxe]
Line Meter--1953 [Quiet De Luxe]
Push-button ribbon cover--1953 [Quiet De Luxe]
Dual-anchor carrying case with cleat--1955 [Quiet De Luxe]
Addition of "1/!" and "=/+" keys--1957 [Quiet De Luxe]
Twin-Pak Ribbon--1957 [Quiet De Luxe]
Easy-change ribbon guide--1957 [Quiet De Luxe]
Keyset tabulator--1958/1959 [Futura]
Ribbon Color selector hidden--1958/1959 [Futura]
Paper bail removed on most models--1962 [Safari]
Longer carriage knobs--1962 [Safari]
Saddle-grained molded plastic carrying case--1962 [Safari]
"Swing-Away" Handle--1962 [Safari]
"Magic Meter" (plastic ruler on the front of the carriage, with holes for a pencil--for making tables)--1962 [Safari]
Lift-Off Ribbon Cover --1962 [Safari]
Touch-Control moved to keyboard--1962 [Safari]

Touch Control now has three positions

Ribbon Color Selector moved to keyboard--1962 [Safari]
Molded Plastic front panel--1962 [Safari]
Vinyl Carriage-Return lever--1965 [Custom]
Paper-Bail reintroduced on Custom Series--1965 [Custom]
Rubber decorative panel--1967 [Custom II]
Plastic carriage ends--1967 [Custom II]
Plastic body-side panels--1972 [Sabre]
Carrying case squared-off--1972 [Sabre]
Production moved to Portugal--1972 [Sabre, Custom III]
Keytops become square--1979 [Custom IV, Sabre]
Full-size Royal Portable production ends--circa 1982 [Custom IV, Sabre]